I'm so glad you dropped by my site. If you haven't been here before, there's lots to explore. I have a blog called 10 Day Local which is all about how to travel around and be more of a local than a tourist.
Or you could check out the book trailers and listen to some of the music from Restoring Harmony. Use the tabs along the top for easy navigation.
For writers, there are some nonfiction articles on the craft of writing under the Articles tab. And if you'd like to book me to teach a workshop or do a school visit, my offerings and fees are listed under Have Me Visit. Oh, and for you teachers, there's a study guide to go along with Restoring Harmony, along with an author bio and Q&A.
Did you know I'm also a freelance editor? You can hire me to give you editorial feedback on your manuscript. I prefer to stick to the genres I'm most familiar with and enjoy reading, so if you have a manuscript that falls into any of the categories below, and are interested in getting more information about my services, please email me through the contact page.
Genres I edit: Middle Grade fiction, Contemporary YA fiction, Contemporary Romance, Women's Fiction, Memoir, and general Fiction. As you'll see, there's nothing too dark here…no Horror, Thrillers, Mysteries, or Science Fiction/Fantasy. I prefer to stay away from excessive violence and bullying as well. This is not a judgement on those topics, I simply have to consider my own mental well-being and so I give those a miss. If I don't do what you're looking for and you would like a referral, my favourite person to recommend (for some, but not all of those genres) is the wonderful writer and editor, Eileen Cook. She's the person I use myself!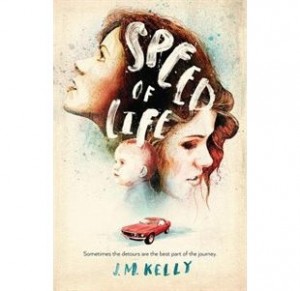 I also write YA under the name J. M. Kelly and I am the author of the White Pine Nominee (2018) PNBAand Shortlisted novel, Speed of Life.
The thing about Speed of Life is that it is hopeful and gives the reader many reasons to believe in strength of family and friends; it also reminds us to have faith in our own capabilities. – Susan Yates, former librarian and teacher

Drop me a note: I'm always glad to hear from readers, other writers, friends, family. You can email me at workshops @ joelleanthony dot com
Happy reading, everyone!