It took me three books, but I finally got a national review! Thanks Globe & Mail for reviewing Speed of Life (J.M. Kelly). If you want to read the very nice review online, click here. If you want to read the book, it's available to buy at places like Chapters, Amazon, Powell's and from your favourite indie bookstore!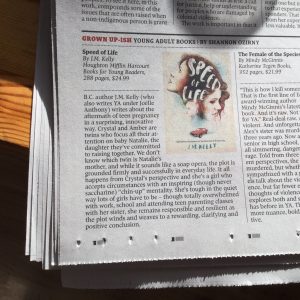 If you live in Portland, OR and want a signed copy, email me through the contact page as I'll be there in December and can probably arrange something. And if you feel like telling Powell's they should carry it IN store, that'd be great because so far they only have it online.
Posted by: Joelle
Comments Off on Globe & Mail!
Categories: