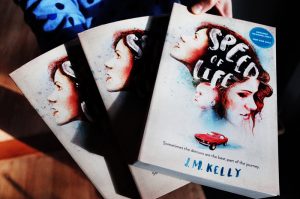 Time flies, but it still seems like the release date for my new book is ages away…October 11th. However, just in case you can't wait, I'm very excited to announce that I have two, count 'em two advanced reading copies of Speed of Life to give away – One to a Canadian resident (from Raincoast Books) and one to a US resident (from Houghton Mifflin Harcourt Kids)!
It's no secret that I'm a cat lover, but my alter-ego J. M. Kelly might just be a dog lover too…at least that's what Gimlet thinks (the hairy white one with the pink tongue below). In this photo, she's smiling because her main-squeeze-person (aka Eileen Cook) has been reading Speed of Life to her and it stars, yes…stars…a German Shepherd called Bonehead. Gimlet loves Bonehead. She might even crush on him a little bit. She definitely recommends Speed of Life and not just to dog lovers. When I asked her for a blurb, she said, "Wooof! Wooof! Woof!" (times about a thousand) and nibbled on my calves, toes, and knees…she was that excited!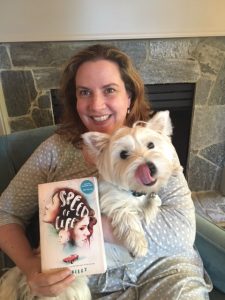 A few others besides Gimlet have chimed in. Kirkus says: Crystal's struggles with independence and identity are realistic and palpable. Feminist readers in particular will appreciate this strong young woman who doesn't conform to gender norms.
And Eileen herself said: I loved this book.  I wanted to invite Crystal and Amber over to my house where I could make them a nice dinner and then help them figure out their lives while we enjoyed pie. Speed of Life grabs ahold of your heart on page one and doesn't let go even after you've turned the final page. – Eileen Cook, author of WITH MALICE
So I'm thinking you should enter to win, and you're wondering how, when & what do I get.
How? Leave a comment, receive an entry. Tweet about it, get another one (just include me @joellewrites in your tweet) , put it on Facebook get another one (you'll have to let me know somehow as I'm not on FB). Put something about this contest on your own blog and get 10, yes 10 entries!!!
When? Between now and August 27, 2016
What Do I win? One US resident and one Canadian resident will win an advanced reader copy of Speed of Life sent to you by my publicist. I will also send you a signed postcard and maybe a few other surprises.
Here's the jacket blurb if you haven't seen it yet: Twins Crystal and Amber have the same goal: to be the first in their family to graduate high school and make something of their lives. When one gets pregnant during their junior year, they promise to raise the baby together. It's not easy, but between their after-school jobs, they're scraping by.
Crystal's grades catch the attention of the new guidance counselor, who tells her about a college that offers a degree in automotive restoration, perfect for the car buff she is. When she secretly applies—and gets in—new opportunities threaten their once-certain plans, and Crystal must make a choice: follow her dreams or stay behind and honor the promise she made to her sister.
And here's where you can pre-order the actual book if…you know…if you want to. I always find it weird to ask people to buy my books, so I don't. But I'll give you the information!