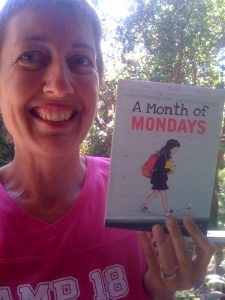 I'm very excited to share the ARC of A MONTH OF MONDAYS with you. By share, I mean show you a photo because they only sent me one and I have to keep it under my pillow.
I'm going to briefly say something about this book and why if you're a writer you should never give up. There is a version of this book, with the same premise, most of the same characters, and even a scene or two that I started over twenty years ago! Yes, twenty years ago! It was the second "novel" that I wrote, although I know now it wasn't anywhere long enough to be a novel (about half what it is now) and while it had voice, it was pretty much lacking in most other things…like tension, plot, and conflict! I have set aside a great number of books, probably ten. Some I set aside, others simply didn't sell and my agent and I agreed to let them go fallow. But for some reason, I could never let this one go. I love Suze and I love her story and I always have and I always will.
A couple of years ago I sat on the judging panel for the Red Cedar middle grade book awards and I read a LOT of books. Two of the finalists came from a Toronto publisher called Second Story Press. I was impressed! But more than that, I got the feeling they might provide a home for Suze. Over the years, she'd immigrated along with me from the US to Canada and I had re-set the book in Victoria, BC, but then I'd never done anything with it. I polished it up and eventually it became what it is today…my first middle grade novel! I feel very lucky that Suze and I have landed at Second Story and I hope to continue to write about her and her friends for them (and readers) in the future! Not sequels exactly…but I have plans! Hopefully they won't take another twenty years to come to fruition!