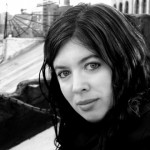 Nova Ren Suma wrote the tween novel DANI NOIR. She has an MFA in fiction from Columbia University and was awarded fellowships from the New York Foundation for the Arts and the MacDowell Colony, and she'll be a resident at Yaddo in 2010. Her YA novel, IMAGINARY GIRLS, is due out tentatively in 2011. www.novaren.com.
I met Nova when she commented on one of my posts over at The Debutante Ball. Turns out we have the same fabulous agent! Before we start, I want to make two announcements. First, I want to say a big, huge congratulations to Nova because her book, Dani Noir, has just been named one of Amazon's Top Ten Middle Grade Novels for 2009! Way to go, Nova!
And the second thing is, you can win a signed copy of Nova's book simply by commenting on this post, or sending me a message through the contact page saying you want to win! I'll accept comments/entries through Tuesday, 10 November and then I'll draw a lucky winner (U.S. & Canada residents only – sorry everyone else!).
Without anymore rambling on my part, here's the interview!
What were your favorite books when you were a teen?
As a young teenager, around fourteen I'd say, I discovered Go Ask Alice. I don't think Go Ask Alice was meant as an inspirational guidebook for discontent teens, but I took it that way and aspired to try some questionable things thanks to it. I had many copies of that book over the years—I'd read it, lend it to a friend and never get it back, and go out and get it again. The book was the diary of an anonymous teenager, or so I thought. I actually didn't learn that it wasn't a real diary until recently; I can't tell you how crushed I was.
Around the time I was reading and rereading Go Ask Alice, I also discovered this old dust-covered copy of Sybil in the house where we lived at the time. I don't know if the book belonged to my mother or stepfather or to the people whose house we were renting. This was a book written by a therapist about one of her patients she called "Sybil," who had sixteen separate personalities; I found that terrifying. The idea of having no control over yourself—that a whole other person inside you could step up and take you over—freaked me out and made me wonder if I had multiple personalities and just didn't know it. I probably read that book ten times.
I became obsessed with Anne Sexton when I was in high school, maybe around age sixteen. I had a book of her collected poems that I carried with me pretty much everywhere. I'd type up her poems and tape them to the wall beside my bed. I'd read poems aloud to friends. I loved that she said dangerous, dirty things, and I loved how she revealed all her darkest secrets hidden inside her poems. I recently found the Anne Sexton book from that time: dog-eared and pages curling and covered in doodles and underlines. It's not really readable anymore, but it's worth keeping.
What's on your iPod or CD player?
I'm writing my new novel to music, very specific music, so pretty much all I listen to right now is my novel's playlist. It has a very particular mood, and some people may be disappointed that there's no Lady Gaga on it. Certain chapters have certain songs, so sometimes I can go for days listening to the same two songs on repeat and I'm sure everyone around me is glad I have headphones. The playlist includes songs from the present and from the past. We have Scout Niblett, Yeah Yeah Yeahs, Sufjan Stevens, the Kills, Emily Haines, the Duke Spirit, and then we have classics from Jane's Addiction, Sleater-Kinney, Pixies, and the Velvet Underground. Don't tell my husband, but there's a certain song on there by the Cure (I was banned from playing the Cure at home years ago)—but it goes with a particular chapter and I'm keeping it in. The novel is partly inspired by my baby sister, so the playlist includes some of her favorite artists and songs. For instance, she introduced me to "Hanging High" by Lykke Li, and if I had to pick one theme song for the whole book, that would be it.
Do you eat right, get plenty of exercise, and sleep eight hours, or do you sit in front of your computer writing all the time?
I eat like a child—I'm a picky vegetarian who won't eat certain foods due to their textures (examples of meatless foods I can't, or won't, eat: citrus fruits, onions, olives, avocado, hummus). My poor husband, who does most of the cooking because he's better at it, has to put soups in a blender before I will eat them. I also have an awful sweet tooth, maybe because I wasn't allowed to have junk food for most of my childhood, so I adore it now and eat it pretty much every day. I absolutely do not exercise unless you count walking the streets of New York City between home and my writing spot with a backpack containing my laptop as exercise. And I don't sleep eight hours a night, who has time for that? So, yes, I spend the majority of my time sitting at a desk or a café table writing. I bet my typing fingers are in really great shape though.
Do you use an outline when writing, or just let it flow and write as fast as you can?
I wish I could just let it flow. I used to—and this is how it once took me five years to write one novel, a novel you will never, ever see. Then I started working as a freelance writer on work-for-hire novels, and when I was doing those I was forced to do chapter-by-chapter outlines—you didn't get paid if you didn't turn in an outline. So doing big outlines like that became a part of my process—the step you take after the first few chapters and before the full draft, a given.
For DANI NOIR, I was also forced to write a chapter-by-chapter outline, since the book was sold on chapters—but it was so much fun. I pity my editor because the outline I turned in was close to forty pages, single-spaced, and read more like a rough draft than anything else. For the novel I'm writing now, my contract doesn't ask for an outline. My editor didn't ask for an outline, my agent didn't ask for an outline… so you'd think I'd just skip the chapter-by-chapter outline and write the book, right? Um. I actually had to stop midway through the first draft to "outline" or rough out the entire second act of the book. No one needs to see it, but the process of planning out every scene in the book really helps me. Somehow it makes writing the book seem less daunting. And, sometimes, when I'm feeling unsure of myself and I'm stuck on a scene and telling myself I suck, I just turn to the outline and read ahead to the scenes I have planned for future chapters. Then I get excited. Ooh, I get to write that soon! And that, and that! Things to look forward to, you know? It's a way to keep the first draft enticing.
If you could live anywhere for a year, where would it be? And what kind of a place would you live in?
This is the most expected answer you could get, but I am going to give it: I want to live in Paris for a year before I die. It's a life goal, a must. I first decided this after reading Jean Rhys in college and it's a fantasy I haven't let go of yet. I've only been to Paris twice—once with my husband and once with my baby sister—but it's one of those places you get a taste of and leave wanting more. And so you know: I have the worst French accent on the planet and my vocabulary is stalled in the tenth grade, not to mention that my picky eating habits would make my diet in Paris basically consist of baguettes with cheese, chocolate mousse, and crepes, so after a year I'd probably be laughed out of the country, but I'll take that year, even if all the Parisians make fun of me the entire time.
As for where we'd live, I'm an apartment kind of person. I don't need much space, and I don't want a lawn to take care of. The ideal place to live for me would be a few rooms up on the top floor—I wouldn't even mind the stairs. My husband would like a big balcony, so let's add one. And within walking distance would be everything I'd need, since I never did get my driver's license. And inside the apartment would be a little writing room, just space enough for a desk and a chair and a window to look out of. That's not too much to ask for, is it?
Do you make plans in advance when you travel, or just hope for the best?
I wish I could land somewhere and hope for the best—one of my closest friends does things like that; she traveled to Ecuador this summer just to go, on her own, and went around having adventures. And my husband did that in Italy—he landed in Rome and figured things out from there and his travels took him to Florence and then Prague, just because. I admire them both. Me? I can't travel somewhere unless I'm certain there's a bed waiting for me on the other side. Give me Expedia or I won't go. It's shameful but true. This may or may not be related to why I can't write a novel without an outline.
What's the coolest writing-thing that's happened to you since you sold your first book?
I sold DANI NOIR, my first book, on my own without an agent—by choice. Honestly, since I'd already gone through the whole agent-search thing with a previous literary fiction manuscript for adults, and got a few of those heartbreaking too-close-but-no-cigar phone calls that seemed to hurt worse than the little paper slips, I'd told myself I did not need an agent… EVER. That I'd be perfectly fine living my whole life without a literary agent and so there. Of course that was all a lie because I really, really wanted one. So the coolest writing thing that happened to me since selling DANI NOIR was when I got up the courage to start querying agents with my next manuscript, a YA novel this time, called IMAGINARY GIRLS… and I actually got some yeses. It felt like a dream. I ended up not just with a real-live literary agent but with the exact right agent for me, which goes to show that timing is everything and sometimes it's worth it to wait till the perfect moment—and the perfect manuscript. And since you and I share the same stellar agent, you know how worthwhile the wait was!