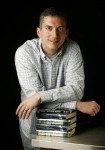 I'm very excited to have James here even though I haven't read his new book. I know! What is wrong with me? Well, I'm scared of it. My agent, who is also James' agent told me I might be too wimpy to read it. Okay, wimpy might've been my adjective, but he didn't argue with me. James thinks I should just suck it up and stop being such a baby I would be fine with it though and since he's generously offered to send me a copy, I've decided to give it the old college try.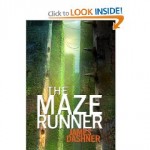 But better than that, James is also offering up a copy of The Maze Runner to one of you lucky blog readers (click on this link to see his cool website for it!). Yay you! Yay James! So leave a comment or email me using the email address on the Contact page by Tuesday midnight, January 12th and I'll draw one lucky winner.
And now, let's find out more about James himself.
James is the author of The Maze Runner, a Junior Library Guild selection, a Kirkus Reviews Best Young Adult Books of 2009 selection, and the #1 pick for Indiebound's Indie Next list for winter of 2009/2010. He's also the author of The 13th Reality series. You can find out more about him and his books at www.jamesdashner.com.
What were your favorite books when you were a teen?
Ender's Game, The Chronicles of Thomas Covenant, anything by Stephen King or Dean Koontz.
What's on your iPod or CD player?
Everything from opera to Led Zeppelin, Ozzy to Enya. I like variety!
What do you read in the bathroom?
Ummmmmm. Well, my wife would kill me, but I usually take our Entertainment Weekly in there.
I gave you twenty questions and asked you to answer seven. Were you tempted to answer all twenty? Why?
No, because I have revisions due! I mean, no, because I like to follow instructions and I want to make you happy.
Do you use an outline when writing, or just let it flow and write as fast as you can?
I make a simple one or two page outline – more of a bullet point list of the major events of my story. A lot of it comes as I'm writing, but I at least like to have a basic path, and I really like to know how it ends if at all possible. One thing I always, always do is write the first draft straight through without any editing whatsoever. It's all about creation that first time through.
If you could live anywhere for a year, where would it be? And what kind of a place would you live in?
Oh, so easy! I would definitely live in a castle in Scotland somewhere.
Are you a sports fan? Who's your team?
Major sports fan. And I'm very faithful to all the teams I grew up rooting for in Atlanta: Braves, Falcons, Hawks, Georgia Bulldogs.
Go on, give us some writing advice. You know you want to!
Okay, I guess I can do eight, since you asked so nicely. The best writing advice I can give is to read lots of books, attend every writing conference possible, and write at least a little each and every day. Practice makes perfect (or at least not sucky).
Thanks for playing, James. And since you're giving me a free book, I'll try not to hold it against you for being a Braves fan. Go Cubs!