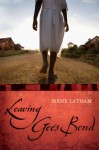 The lovely writer, Kerry Madden, brought Irene Latham to my attention. I must be a little slow to have to have relied on Kerry, considering I had Leaving Gee's Bend in my box of ARCs and Irene and I have the same editor, but at least I finally clued in. So, welcome to Irene and her wonderful new book!
Irene Latham is a poet and novelist who writes heart-touching tales of unexpected adventure.  Her debut midgrade historical novel LEAVING GEE'S BEND (G.P. Putnam's Sons, 2010) is set in Alabama during the Great Depression.  A resident of Birmingham, Alabama, for the past 25 years, she has published over 120 poems of various books, journals and anthologies, including a full-length collection WHAT CAME BEFORE, which was named Alabama State Poetry Society's book of the Year and earned a 2008 Independent Publisher's (IPPY) Award.  Irene loves exploring new places and often uses "research" as an excuse to travel.  Her favorite characters in books and real life are those who have the courage to go their own way.
Ten-year-old Ludelphia Bennett has only ever known the log cabins, orange dirt, and cotton fields of her small sharecropping community.  But when Mama gets deathly ill, Ludelphia does something drastic – she leaves Gee's Bend for the very first time.  Mama needs medicine badly, medicine that can only be found in Camden, over forty miles away.  It's a dangerous journey, but Ludelphia weathers each challenge in a way that would make Mama proud, including documenting her journey – her story – in a new quilt for Mama as she goes along.  In the end, Ludelphia's courageous adventure saves the day for Mama and all of Gee's Bend.
And now for the questions!
What were your favorite books when you were a teen? Two I read multiple times were Gone With the Wind by Margaret Mitchell and The Mists of Avalon by Marion Zimmer Bradley.  (the longer the book, the better!)
What's on your iPod or CD player? I just bought a CD at Flint Institute of Arts that is classical music with Egyptian themes.
What's your favourite website? Right now, it's www.etsy.com.  I LOVE handmade/artsy items!
What's the best piece of advice anyone ever gave you (or you learned from a book)? When my first book of poems came out, my husband gave me a little plaque that says, "Live Your Poem."  I think that covers everything.
Where do you see yourself in ten years? I want Barbara O'Connor's career.  See this post where she talks about what she accomplished in ten years. http://greetings-from-nowhere.blogspot.com/2010/01/decade-recap.html
What are you reading now? Hex Hall by Rachel Hawkins
Do you make plans in advance when you travel, or just hope for the best? Oh, I LOVE the planning!  I read and research and try to create THE BEST TRIP EVER.   I'm pretty choosy about what to do and where to eat.
Thanks so much, Irene, for stopping by! And good luck with Leaving Gee's Bend.
Posted by: Joelle
Categories: