There are two teens on the island who are special to my heart, and so when it came time to have a teen or two read Restoring Harmony and make sure that I'd gotten all my Canadianisms right, I asked them to read the manuscript. This was last June or so.
They both read it and gave me great feedback. I ended up changing one whole scene when one of them told me, "That part about the piano is really lame." and I realized she was right! Now, it's much better.
Anyway, I am teaching the older of these two sisters to cook and so last night she came over and we were going to make dinner. However, the second she arrived she wanted to see the ARCs. She grabbed the book, sat down at the table with tea and peach bread and began to read. After about half an hour of cooking while she sat in the kitchen chair reading, I turned to say something to her and she was gone. This is where she'd moved to…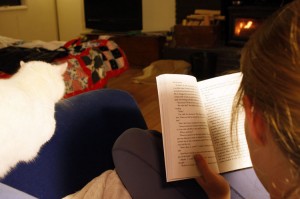 The big blue chair. The next time I looked, she was even covered with my blankie.
When I finally had the dinner on the table, ready to eat and rang the bell, she said, "Is that bell for dinner? Does it mean come right this second or after I've finished this chapter?" She just called to tell me she's done reading and there aren't any more lame parts. Thank goodness since it's too late to change them!
Posted by: Joelle
Categories: