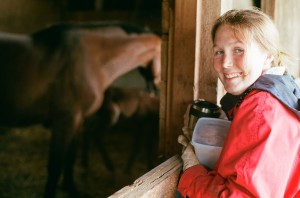 Kelly Berthelot
July 1989 – August 2011
Beta Reader
Sous Chef
Best Friend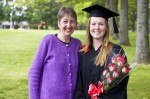 When you lose your best friend suddenly, sometimes you have to think of games to get yourself through the day or night. The one I've been playing with myself is, "What great things do I remember about Kelly?" Last night, I was not only comforted by this game, but it made me laugh and I decided to share some of the answers here. As you can see, a lot of it revolved around food. She was my cooking student for over two years.
The 3 foods Kelly always tried to get me to make for her.
Egg salad

Fruit smoothies
The 3 things I was always trying to sneak into her food without her noticing because she didn't like them, but I know they make food better.
Black pepper

Parmesan cheese

Coconut
The biggest lesson Kelly learned – anything you can buy at the grocery store, you can make.
My biggest mistake – telling Kelly that anything you can buy at the grocery store, you can make. See cannoli!*
The three hardest things to teach her – taste as you go, you have to get your hands in the food, and your food is supposed to look homemade, not like it came from a factory.
The three easiest things to teach her – how to chop an onion (she was a pro!), to make granola, and how to plate food so it looks beautiful.
The three things Kelly taught me – almost every problem I have is a "First World problem", to be easier on myself, and how to be a teacher.
The most adventurous thing we tried to make: Cannoli* from scratch filled with homemade ricotta cheese. We even made the wooden molds from doweling. The fact that Kelly ran off in the middle of this all-day project and left me with the deep frying so she could ride her horse is not forgotten, either. She was back in time to eat them though.
The first thing I taught Kelly to do in the kitchen was to grate cheese. Seriously. She thought it came in a bag already shredded. And I guess, technically, she was right, it does.
Her biggest accomplishment in the kitchen: One of the last times we cooked together, she was the head chef, and I was her sous chef. I picked the meal, showed her the recipes, and gave her a time limit of one hour for completion (twice what was recommended). An hour and two minutes later, Victor, Kelly and I sat down to mushroom ragu over polenta (I snuck the Parmesan in when she wasn't looking), soup, and a crisp salad. It was delicious!
The first year Kelly was my student, she was an expert at getting out of the actual cooking, and just partaking in the meal. One time though, I didn't really mind. She showed up to cook, and discovered the galley copies of my first book had arrived. Here is a picture of what she did while I cooked for the next two hours.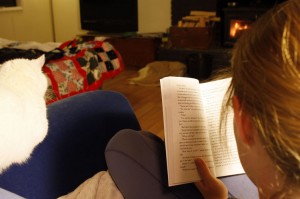 One of my funniest memories of Kelly is the time she stayed at our house to cat-sit Sophie & Marley. We arrived home early to find her furiously cleaning the house because she'd taken a nap instead of straightening up. She was stomping around in my Ugg boots (two sizes two big for her) and drinking tea from my teapot. I knew she was family then.
What I will miss most about you, Kelly:
Your smile.
Your appetite.
Your enthusiasm.
Your kindness.
You throwing the door open and calling into the house, "Oh, Famous Author! Famous Author! I'm sorry I'm late! Let's cook!"