I am never quite sure when to blog about ARCs, and since that is primarily what I've been reading lately, I haven't posted. Is it more helpful to hear about them early so you can add them to your TBR list? Or when the book comes out? I have decided to just list them here and then if I love them (and I remember later – don't hold me to this), I'll blog about them closer to their release date.
Here's what I've been reading:
LYNN VISIBLE by Julia DeVillers – a fun read that comes out in March.
THE SECRET YEAR by Jennifer R. Hubbard (I loved this so much that I tracked down the author and interviewed her for Wild Card Wednesdays – I'm even going to give away my ARC to a lucky commenter)
MY BOYFRIEND'S DOGS by Dandi Daley McKall
THE TRAGEDY OF A GIRL NAMED HAMLET by Erin Dionne
THE WITCHY WORRIES OF ABBIE ADAMS by Rhonda Hayter
RUNAWAY TWIN by Peg Kehret
PALACE BEAUTIFUL by Sarah deFord
SECRET SATURDAYS by Torrey Maldanodo
DRIZZLE by Kathleen Van Cleve
THE TIMEKEEPER'S MOON by Joni Sensel – the sequel to THE FARWALKER'S QUEST and even better than the first!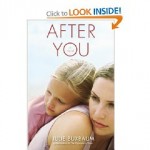 The only already published book I've read recently was AFTER YOU by Julie Buxbaum. This is a FANTASTIC book. Adult fiction, beautifully written. Just fantastic. Definitely add it to your list. You won't be sorry. I loved her first book too, THE OPPOSITE OF LOVE.