Speed of Life (J. M. Kelly) – White Pine Nominee 2018, PNBA Shortlist 2018
J.M. Kelly presents her readers with people whom readers will remember long after they reluctantly finish this superb novel. Highly Recommended. – CM Magazine Review
VERDICT The subject and the teen's efforts to succeed make this a good purchase for libraries, especially those looking for realistic fiction that addresses class disparity.–Faythe Arredondo, School Library Journal
Crystal's struggles with independence and identity are realistic and palpable. Feminist readers in particular will appreciate this strong young woman who doesn't conform to gender norms. – Kirkus
The book remains a believable portrait of blue-collar teens struggling to make it work against tough odds. – Publisher's Weekly
The struggles of surviving senior year with a baby are exquisitely captured in this first-person narrative. Recommended. School Library Connection
With a light touch and evident respect for resourcefulness of her characters, Kelly paints a realistic, yet hopeful portrait of life after a teenaged pregnancy. Details about tight money, crazy schedules, and unfair treatment highlight the socio-economic hardships that trap teen parents in poverty. However, Crystal Robbins is not a typical teenager, and Speed of Life is not a typical teen romance. – Readerly
This is the best YA contemporary I've ever read, period. – Julia, Goodreads reader
"I loved this book.  I wanted to invite Crystal and Amber over to my house where I could make them a nice dinner and then help them figure out their lives while we enjoyed pie. Speed of Life grabs ahold of your heart on page one and doesn't let go even after you've turned the final page".  Eileen Cook Author WITH MALICE
Purchase Speed of Life at these great booksellers or at your local indie store.
A Month of Mondays – Available Now!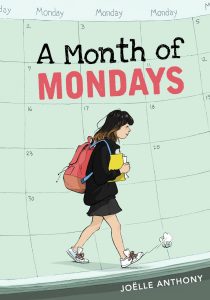 A new Middle Grade novel from Second Story Press.
Suze Tamaki's life gets turned upside down when her mother suddenly reappears after a ten-year absence. Once Suze gets over her initial cynicism, she thinks it might be cool to get to know her mom. But her older sister Tracie – who has been as much mother as sister at times – is determined to make Suze's life a misery for even considering it. At school things aren't much better, as one of her teachers decides the way to cure her apathy about class is to move her into Honors English – a development Suze finds both inspiring and distressing. When she's paired with straight-A student Amanda on an English assignment, she finds herself caring about people's expectations like she's never done before.
Pre-order here:
The Right & the Real – Available from me (but out of print)!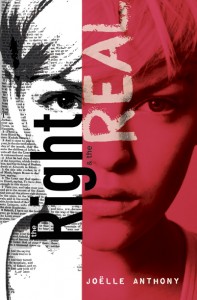 Kicked out for refusing to join a cult, seventeen-year-old Jamie must find a way to survive on her own.
Jamie should have known something was off about the church of the Right and the Real from the start, especially when the Teacher claimed he wasn't just an ordinary spiritual leader, but Jesus Christ, himself. But she was too taken by Josh, the eldest son of one of the church's disciples, and his all-American good looks. Josh is the most popular boy at school too, and the first boy outside the drama geeks to give Jamie a second look. But getting her Dad involved in a cult was not part of the plan when she started dating Josh. Neither was her dad's marriage to the fanatic Mira, or getting kicked out, or seeing Josh in secret because the church has deemed her persona non grata.
Jamie's life has completely fallen apart. Finding her way back won't be easy, but when her Dad gets himself into serious trouble, will Jamie be ready to rescue him, and maybe even forgive him?
Fast pacing and a strong first-person narrative voice combine to make this coming-of-age story a harrowing page-turner. PUBLISHER'S WEEKLY
Nail biting tension and a plot that just won't quit. The Right & the Real is a romance with attitude and a romp with heart. – Tim Wynne-Jones, award-winning author of The Uninvited and the critically acclaimed, Blink & Caution
This is just an entertaining romp with some sharp dialogue, moments of rich humour, and a gutsy main character. Anthony is an author to watch. – Nikki Tate CBC All Points West audio review.
The climax of The Right and the Real will leave readers thrilled, satisfied and eager for more from novelist Joëlle Anthony. BookPage, Nashville TN
The Right & the Real has everything a reader could want: a gutsy heroine, romance, betrayal, and a pace that will keep you reading late into the night. Anthony's character shows us what it takes to survive in a gritty urban landscape when all you have are some unlikely allies, your own wits, and belief in your future." – Eileen Cook, author of The Education of Hailey Kendrick and Unraveling Isobel
It was a great emotional ride that got me riled up and angry one moment and giggling the next.  Just pick it up, you won't regret it! – Novels, News and Notes
Restoring Harmony – Available Now!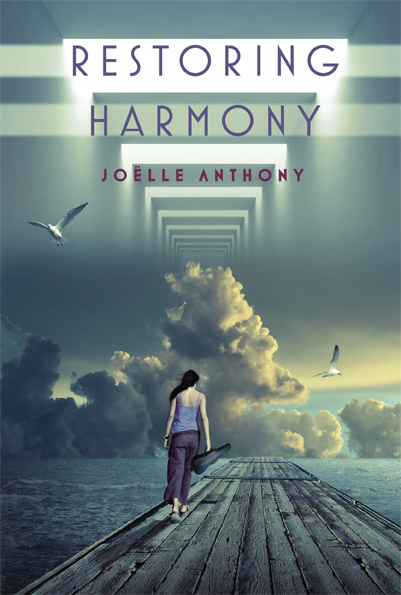 The year is 2041. Sixteen-year-old Molly McClure has lived a relatively quiet life on an isolated farming island in Canada, but when her family fears the worst may have happened to her grandparents in the US, Molly must brave the dangerous, chaotic world left after global economic collapse. One of massive oil shortages, rampant crime, and abandoned cities. Molly is relieved to find her grandparents alive in their Portland suburb, but they are financially ruined and practically starving. What should have been a quick trip turns into a full-fledged rescue mission. And when Molly witnesses something the local crime bosses wishes she hadn't, Molly's only way home may be to beat them at their own game. Luckily, there's a handsome stranger who's willing to help.
Restoring Harmony is a riveting, fast-paced dystopian tale complete with adventure and romance that readers will devour.
Kirkus: Anthony easily builds suspense and creates both an attractive personality for Molly and interesting characters to support her. Highly readable; very well done indeed.
Publisher's Weekly: Adeptly combining adventure and romance, Anthony's debut is a tense and often charming tale that never lets its use of the oh-so-trendy dystopian future trope overwhelm some great characters.
Romantic Times:
RT Rating – Who knew a fiddling heroine could be so satisfying? This futuristic tale hits all the right notes. Anthony's heroine is delightfully Canadian, charming and good tempered despite the obstacles in her path.
Booklist: Anthony delivers a plucky heroine with a musical gift, a taste of romance, and a family-values-based narrative about dealing with unexpected circumstances.
CBC review of Restoring Harmony This comes from the radio program All Points West.

Victoria Times Colonist: Anthony's books are pitched as fiction for young adults, but I wish there were more fiction written for every adult audience segment that is as satisfying a read as was Restoring Harmony. Read the whole review here: Times Colonist review
School Library Journal: …a suspenseful and highly entertaining read that–despite the grim premise–is a surprisingly upbeat and hopeful look at the future. Read the whole thing here.
Voya: Molly is smart, plucky, and determined to do what must be done to fulfill her mission.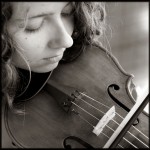 Want a signed book? Please don't send me books to sign and ship back to you. Due to customs, postage, and packaging, this would be a logistical nightmare for me, so I'm leaving it to the pros at Page's Books. Page's is here on my island, which means you can either have a signed copy with just my name, or I can coordinate with the store to personalize it. Please call Gloria at Page's 250-247-8931 for prices and shipping info. You will be charged in Canadian dollars, but even for people in the U.S. this is a much better option than buying books, sending them to me, and paying return shipping. And it's easier for everyone, plus you get to support an indie bookstore. There are still signed books available in the U.S. at the stores listed in this blog post.
Order Restoring Harmony