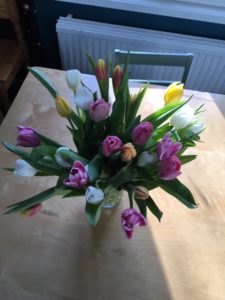 I spent my two days off working on a new project that's on a deadline. It's a TOP SECRET project, so don't even ask. Seriously…I can't talk about it. But I can hardly wait until I can!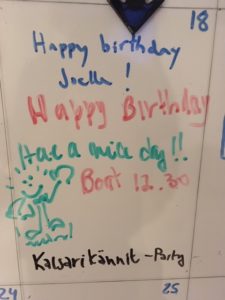 Anyway, I wanted to dedicate this post to my housemates in isolation because they gave me such a lovely birthday!
First, at 11am, they called me out to the kitchen where they had a cake with candles, and a vase with tulips for me. Also, the party had a Moomintroll theme with these cool napkins!
Around noon, my friend Gabby called me on Facetime, and we had a very nice chat.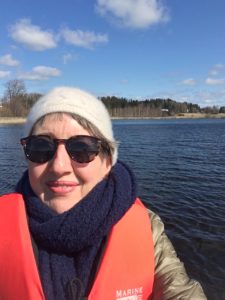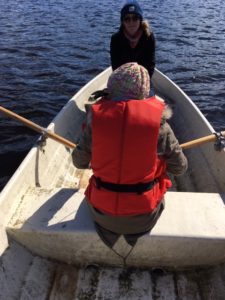 And then I met everyone down at the lake and we took the rowboat out for the first time this year. It's a bigger rowboat than I've ever been in, and it turns out I'm a total wimp when it comes to rowing, but luckily Ida and Julie are good at it. We had a smidge of trouble when got caught in the middle of the lake where there was a swift current (do you call it a current in a lake?) and a strong wind. The winds here seem to go in circles, like tornadoes, but you know…not as fierce. Anyway, Julie saved the day by rowing her little heart out for at least thirty minutes, and a lot of that time, she was just keeping us in place. So she didn't have to look where she was going and get frustrated, I watched the dock and coached her on which paddle to use when we started to get off course. I also told her over and over how awesome she was and she could do it. I was afraid I might be annoying, but she told me later it helped.
This is a picture of her once we got to shore!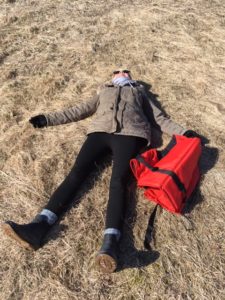 After that, Ida and Julie built a bonfire and they are such pyromaniacs, I had to stop them from throwing on a perfectly good wooden table! I brought a copy of my manuscript with me to work on here, and since I was done with it, I burned it – a sacrificial offering to the gods of publishing in hopes of a sale. It's hard to see in this photo, but we held it down with a pallet and it took a long time to burn…not as long as it took me to write, but quite a while, considering it was paper.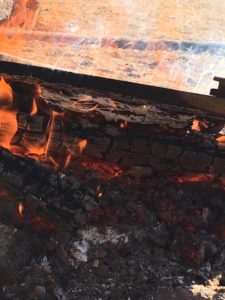 While Ida monitored the bonfire, Julie and I built fires in the woodstove and we all had a lovely birthday-suit sauna, before roasting veggie dogs over the fire.
We ate leftover cake in the lounge about 9pm and then I called my family, watched a couple episodes of The West Wing, and turned in. All in all, a very nice birthday, with lovely people. I'm so grateful to you all for your messages and emails and calls. Love you muchly!