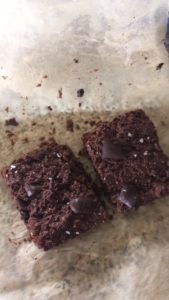 I don't have a sweet tooth. Usually, if I'm craving something sweet, a square of dark chocolate or some dried or fresh fruit is all I need to satisfy it. But sometimes, you just want a treat and I was thinking we all needed one yesterday. It can get pretty tricky to come up with something we all will eat here because there are four of us and only Solange will eat everything! I generally eat vegetarian, Julie is Gluten Free, and Franziska is vegetarian, Gluten Free, and tries hard not to eat dairy either. It's not so challenging for meals, but for baking? Ack!
I ended up going to Minimalist Baker for help. Back when I was cooking a lot at home, I used her site pretty often. Her food is simple, fresh, tasty and usually GF and vegan. I found this recipe for Sweet Potato (technically, they're yam) Brownies and the reviews were good enough for me. Off I went to mix it up. I was more than pleasantly surprised and we all loved them and scarfed them down! The subs I made (due to what I had on hand) were a little less maple syrup than it calls for, no vanilla, and peanut butter instead of almond butter. I also sprinkled very coarse, flake sea salt on top, which I highly recommend.
Julie said, and I quote (imagine it in her lovely Australian accent): These are the best brownies I've ever had. Ever!
Have a great beginning to your week. I'll be back to blogging on Wednesday! Oh, and a very happy birthday to my friend Cherryl! Love you!