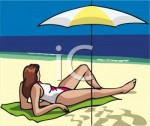 It's Memorial Day in the U.S. and I happen to think that everyone in publishing is (respectfully) rejoicing because this week, publishing goes to summer hours. That means (in theory – we all know everyone works all weekend too), they close down at noon on Fridays.
It got me thinking…I should work summer hours if everyone in the biz is, right? And noon on the East Coast is 9am on the West Coast. So the way I see it, I only have to do about an hour of email on Friday mornings, and then I can call it a weekend!
I've also decided to create my own summer hours for the blog. You may have noticed that I've been blogging a lot, and now I think it's time for the restful, lazy days of summer. Instead of the MWF schedule, I'm just going to blog on Tuesdays and do Finally Fridays and my weekly Deb Post. I really enjoy Wild Card Wednesday, but it ends up being quite a bit of work scheduling and posting all those interviews, so I'll take a bit of a break and probably start them up again in the fall.
By the way, I had a WONDERFUL launch party here on the island this weekend with fun, food, a presentation, music, and lots of book signing. Thanks to everyone who came out and helped me kick off my Canadian book tour (which includes upcoming events in Victoria and Galiano Island). Unfortunately for the blog, but fortunately for everyone at the event, my photographer was busy playing music, so unless someone in the audience sends me pics, I don't have any to share. I did see some cameras, so you never know. One of the best bits was getting to show the book trailer on the big screen though and have everyone in the audience recognize the island because almost all the pictures were taken here. Very cool!
Also, I need to add this note. Some people who live elsewhere have been asking how to get personalized signed books from me. This thrills me, really. It's super exciting!!! And I'm very grateful, but please don't send me books to sign and ship back to you. Due to customs, postage, and packaging, this would be a logistical nightmare for me, so I'm leaving it to the pros at Page's Books. Page's is here on my island, which means you can either have a signed copy with just my name, or I can coordinate with the store to personalize it. Please call Gloria at Page's 250-247-8931 for prices and shipping info. You will be charged in Canadian dollars, but even for people in the U.S. this is a much better option than buying books, sending them to me, and paying return shipping. And it's easier for everyone, plus you get to support an indie bookstore. There are still signed books available in the U.S. at the stores listed in this blog post.
Have a great week, and see you on Friday…assuming you're around for that one hour I intend to work. Happy Summer Hours, everyone!