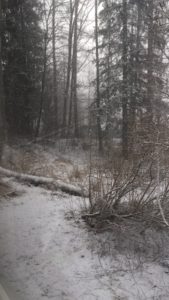 We woke up to snow this morning! So beautiful. By afternoon it was all gone. We had "sauna" on the calendar, but no one has built the fires…I think we're all still a bit in shock that there are only five of us left here! Maybe tomorrow. We can't talk about it though, as this is one of our Silent Days. When we were discussing our diminishing numbers yesterday, Solange likened it to the Agatha Christie play, Ten Little Indians. I pointed out that so far, none of us have been murdered, but we are in the hinterlands and Scandi Noir is very prominent here…maybe all the messages we're getting from the other artists who have gone home are being faked…bwawhahahaha!
This afternoon, one of the lovely remaining artists came and gave me a reiki treatment! It was so peaceful and after she left, I fell into a deep sleep. The sun was pouring through my windows across the bed and I woke up later, very, very hot but feeling good.
I went for a walk about 4:30 pm and the light is so fantastic, I had to share some pics. The bus station has us all perplexed as we have seen no sign of a bus, nor of anyone waiting for one.
Very briefly…a bit about my travel. I decided this morning that if I can get home, it might be more fun for me to be there (once the 14 day isolation is up), so I bought a ticket for April 4th. I am determined to finish this residency and to do some actual writing, and tickets right now cost upwards of $2000 USD, while that ticket was a mere $1150! I optimistically bought a RT ticket, returning me to London on 13 July, but it wasn't much of a gamble as it was only $50 more than a one way ticket from here to Vancouver! If I can't travel, I will officially be a "stranded" foreigner and the EU is extending visas for anyone stuck. Now I won't worry about it, and leave it in the hands of fate. All shall be well, and all shall be well, and all manner of things shall be well!