Being here in Finland, one can't help but be made aware of what the country is arguably most famous for…Moomintrolls! Unfamiliar with them? Check out this site.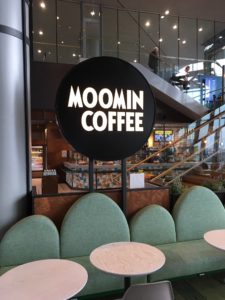 On arrival at the Helsinki Airport, this is one of the first places I saw.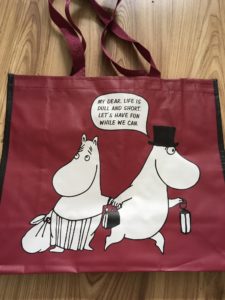 And when I forgot my grocery bag, well, I had no choice but to buy this one. I have to admit, that in light of what is going on around the world, it could be considered a bit grim, but I am a glass-half-full kinda girl, so I decided to embrace it.
Yesterday, I succumbed again to these cuties…I'd been wanting a metal mug to tra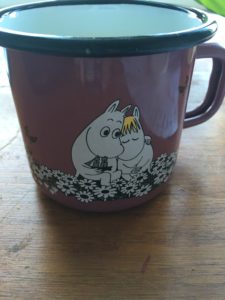 vel with, and when I saw this for only ten euros, I had to get one. I don't buy many things as I don't really like stuff (and when you're traveling, you have to carry it), but this is something I'm happy to add to my collection!