Today is a mish-mash of different things…don't forget, except for the "from my window" series, I am taking Mondays and Tuesdays off from blogging. See you on Wednesday.
Subscribe! I've finally set it up so you can subscribe to this blog. You can get an RSS feed (although, I haven't tested it) or you can simply subscribe by email (I have tested that and it seems to work). Yay!
Fermenting Foods: I've been getting some questions about this on Instagram and via email, so I'll write a bit more about it here. First off, you don't need a culture or starter to ferment foods, unless you're making kefir or kombucha (which I don't make anymore). For vegetables and fruits, you either use salt massaged into the food until it gives up enough juice to submerge what you're fermenting (like cabbage to make sauerkraut) or you use a brine made of salt and water (different items require different salt/water ratios) for things that don't give off juice, like carrots or cucumbers. If you find a recipe online and it includes using one of the starters in a packet, they're probably just trying to sell it to you. Salt is all you need.
Fermenting vs. Cultured: they are the same thing (as far as I know). Also, in the old days before canning and pickling with vinegar, preserving food with only salt was called pickling, so you may find people using that term, too. The thing to remember is once you've got the item fermented to the point where you like the taste, you can put it in the fridge and it will stop fermenting (for the most part) and last pretty much forever.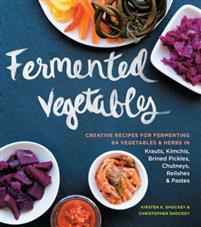 Fermenting Resources: This is my favourite book and if you can get an e-book version of it, or order it online (although, ironically, Amazon isn't counting books as "essential items"), I recommend it as the very best place to start fermenting. If you like spicy foods, they've got a whole book dedicated to that!
This site that I mentioned earlier will send you their free e-book. They use starters, but again, you can generally ignore them. Feel free to email me and ask me any questions and if I can help, I will!
Got Carrots?  Try this recipe.
Comments: Enrica can leave comments, but everyone else seems to have trouble…I'm no tech whiz though, so I really don't know what to say except…email me if it doesn't work and ask me or tell me what you want to say? Sorry!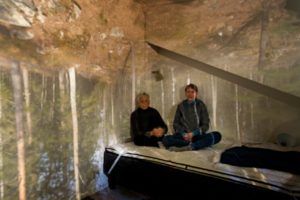 Camera Obscura: Solange ended up with a lot of really cool photos and sometime this week, I'm going to interview her and tell you more about it. In the meantime, here's one from yesterday. Julie and I were in the room, and the odd thing was, that everything was black and white to us! Solange kept the shutter open for a full minute, and when she downloaded the photos, they were in colour! Magic, I think. Today we did some poses where we were outside so we're part of the reflection. More to come.
Lastly, here's a list of all the foods I've made to share so far. Plenty of room for more! If anything looks especially good to you, shoot me a note and I'll share the recipe on the blog.