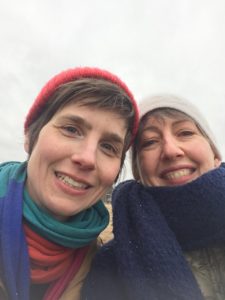 I thought it might be nice to introduce you to some of the other artists who are here with me at the Arteles Creative Center. Franziska is a German artist, designer, author and illustrator (with a soft spot for cats, so naturally we're great friends!).
She came here to be the intern, and now her role has changed slightly. Or dramatically, really. Instead of making our breakfast, and taking care of us and offering help when residents need it, she's now hangs out with us, joins us for meals and does her freelance work during the day.
She's great in a lot of ways, but one of the really special things about her is she's a ballet dancer and she's taken us under her wing…We are now taking ballet from her, holding onto chairs since we don't have a barre, and doing plies and all kinds of other fancy moves…okay, we're mostly groaning and losing our balance, but in just a few short days, our legs are getting stronger. Mostly it's just a lot of fun and laughs, but Franziska is actually a serious dancer and when she demonstrates, it's rather beautiful.
She also gave me some lessons on sauna practice. Every time I've done it before, I've ended up being so hot all night I couldn't sleep. So last night, she walked me through it and boy was I missing a key step. The part I'd neglected to do was to dump a lot of cold water on me between rounds in the sauna. My favourite part of the lesson was when she told me, "From the waist down, I use cold water, but on my chest, I use a little warm water so I don't scare my heart." I just love that! Anyway, I followed her directions and had no temperature issues last night at all. Slept for eight hours straight.
You can visit Franziska's website (you may need to brush up on your German) or follow her on Instagram (sehenistgold).