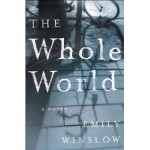 I'm back from my six month international book tour! What? I was only gone a week? Hmmm…it seemed like several months at least. Boy, when you're not used to the city anymore, a week of traffic can really give you sensory overload. And I didn't drive a single kilometer! Nope, my husband went along and acted as driver, photographer, and musician, and I was very lucky to have him.Thank you, Darlin'.
I know I promised pictures (there's a link to the slide show at the end) and a bit about my tour, but before I get into that, I do want to invite you all over to The Debutante Ball where we are celebrating Deb Emily's debut release. Her book came out this week, and is called The Whole World.
I also wanted to say that all the winners in my various contests have been notified and all the prizes have been mailed. I'd love to hear when they arrive, but that's optional, of course. Hope you love all the goodies, everyone. And thanks to so many of you for entering.
Now for the tour. I had three fabulous events while I was in Portland. The first, at Annie Bloom's Books, was great fun because it's such a wonderful store. Thank you to Holly for being a charming host, and giving me a very nice introduction. Don't tell my kitties here at home, but I do love Annie Bloom, the store's lanky, sweet black cat! Some of my friends from college showed up and it was great to see them too.
My second event was at Borders in Gresham, OR and it was standing room only, except for the three chairs in the front that people seemed to be scared to sit in! What a great turn-out. Thank you to everyone who came. Many, many of my friends from high school showed up, including my French teacher who just happened to wandering through the store and had no idea I was doing an event there!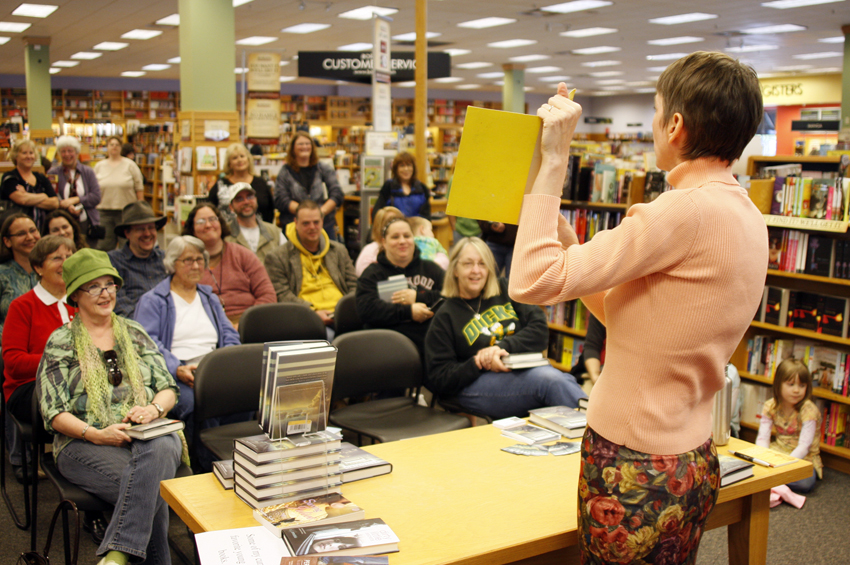 Later that night I had a private party at my grandmother's apartment building and so it was all family and her friends. Our lovely fiddlin' friend, Diana, came for this event and played music with my husband to go with my reading (she was also at Annie Bloom's). My uncle owns Literary Leftovers in Battleground, WA and he brought the books (and sold out!) which was very fun for all of us.
Before heading home, I also visited my niece's third grade class and we had a great time learning about how writers are really spies. The kids wrote WANTED posters for each other, careful to spy and not get caught, and then they read them aloud and we guessed who they were describing. My wonderful editor, Stacey Barney, also donated enough books so they could each have one and there were some left over for their classroom too.
In addition to my events, I also signed books at various stores and so if you want a signed book, they have them. Here's a list of the stores:
Orca Books – Olympia Washington – Jon invited me in (via email) to sign stock and I met him and some of the other staff. Wonderfully friend people and a great store!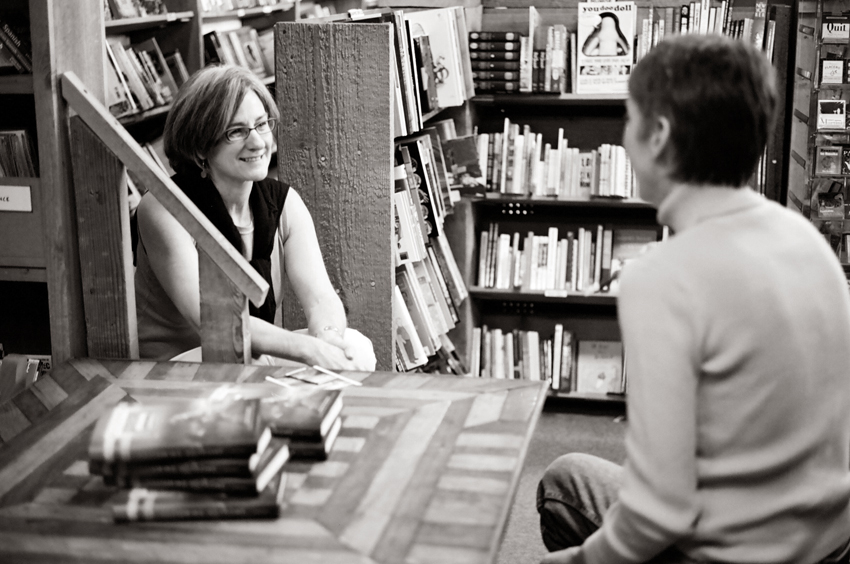 Island Books – Mercer Island, Washington – A quick word about Nancy Page and Island Books. First off, Nancy, the co-owner is just really nice. We had a chat about teens and getting them reading and also author interaction. We plan to do an author/teen discussion hosted online by Island Books sometime soon. Also, Nancy donated the gift certificate I had planned to buy from the store for my grand prize winner, so thank you Nancy and Island Books. And don't forget, they have free ground shipping on their books, so it's an excellent way to support an indie, even from far away.
Gresham Borders – Thanks to Aleah for organizing the event! And so cool to meet Bill Cameron and Bryan Bliss there too, as well as Melody & Madeleine, plus so many high school friends and their kids.
Hawthorne Powell's – You all know about Powell's…
Downtown Powell's
Clackamas Barnes & Noble – They only had one copy, but I signed it!
Literary Leftovers has 10 signed book plates & will ship my book to you for an additional $4
I want to wrap this up by inviting you to watch the wonderful slide show my husband created from the pictures he took.