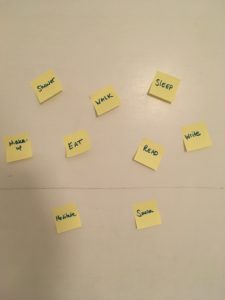 Hello from Finland where it appears I will be residing indefinitely! As the last artist who is leaving us early prepares to go tonight, things are starting to settle a bit. I decided today that now I can begin the quiet, meditative residency that I came for in the first place. Every bit of this month was important and special, but now I think it's time to get to work.
To help stay on track, I wrote down the things I know help keep me balanced and I put them on post-its on the door. Depending on how good your eyesight is, you may or not be able to read them, but they are:
Shower, Walk, Sleep, Eat, Read, Write, Meditate, Sauna, and Make-up (as in…put on my make-up because it makes me feel good). What I find really interesting as I look at this picture is the number one thing that I expected to be there, that I would've sworn was there, that maybe was there and fell off (?) is tapping. Emotional Freedom Technique, popularly known as tapping has saved me over the last eighteen months…it's carried me through grief, and change, and challenges and I use it every day…maybe that's why I forgot to put it up there…because it's not anything I have to remind myself to do. Anyway, today, on The Tapping Solution there is a useful tapping meditation for anxiety that some of you might want to try. And if you're not familiar with it, there are plenty of videos explaining what it is and why/how it can help you.
Lots of love and light from Finland…well, dark, really…darkness and incredible starry skies…but soon the time will change here (this weekend) to what is referred to as Summertime and the days will be longer and lighter.
P.S. If you have excellent eyesight (or the ability to really enlarge the photo), that is not a line running horizontally across my photo…it's a secret message.