This is the letter I wrote to the editor of the Gabriola Sounder after Victor's death. We actually wrote it beforehand together, planning to send it when he was well, and I changed it to my point of view, but it was originally a joint project.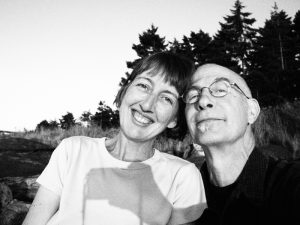 To the Editor:
In 2005, I came to Gabriola to meet with Steve Orsatti, the only real estate agent who would answer emails from Americans. Totally understandable! Victor was working as an actor and musician in Tennessee and he stayed home. I was supposed to look at houses and get a feel for the island's real estate. Instead, I bought the one we've lived in for the last eleven years.
If there was one thing that islanders had drummed into our heads on previous visits, it was that water was a commodity and a good well was very important. After the deal was done, Victor had me on the phone and he asked how the water pressure at the house was. I answered, "Uhh…" Yes, I can admit it now, I bought a house without checking out the well or the pressure. And do you know what? Our little property has one of the best wells on the island, with plenty of drinkable and delicious water year round (knock on wood, of course). A dowser once told us there's an underground stream running under our driveway and you only have to look at our green grass in August to see he's right.
The other thing we didn't know was that the Gabriola community is not only as vibrant, as generous, as life-sustaining as our well, but it is the underground stream that is still there when things are drying up. The community is there for you in ways you can't possibly imagine before you need them; big, small and everything in between. I am so grateful to be a part of this stream here on Gabriola, and it was a lifelong dream of Victor's to live in a place this wonderful. He told me so every day.
One always hopes to be the giver, the donor, the generous person in the community, but sometimes we are forced by circumstances to say, "Yes, please." and "I do need some help." and most importantly, "Thank you." While that was hard at first, especially for Victor who only wanted to give, never to take, I am so grateful we allowed ourselves to be helped because "giving" is actually only full circle when you can receive as graciously as you give. It took Victor's illness to teach us that.
So thank you all for making our life here so wonderful, joyous and all the things a person could want. Victor was grateful every moment he was here, and I continue to be so. I wish you all could've seen his face every time someone stepped up to assist us over these last few months, some of you we don't even know. He would tear up every single time. And then he would say with all modesty and complete wonder, "But why? What have I done? I was just doing what you do." The truth was, he really didn't see that he'd done anything special here, because, it's what you do when you love a place and the people in it. It's what any loving human being would do.
Nearly every day, I would look at him and say, "How'd we get so lucky?" and he'd answer, "Just lucky, I guess." Yes…indeed. Just lucky, I guess.
Thank you all.
Thank you. Thank you. Thank you.
Peace and Grace,
Joëlle (and Victor) Anthony
Posted by: Joelle
Categories: