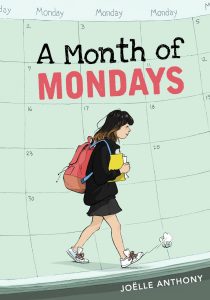 A Month of Mondays is an intensely readable novel. It is full of fun, bright and natural dialogue. It has a lovable underdog narrator, someone to whom many readers will relate. Highly Recommended. (CM: Canadian Review of Materials)
Just a quick reminder that my first middle grade novel, A Month of Mondays comes out one month from today! I'm very excited about this book, as I started it about…oh…twenty years ago! Seriously. See this post for details if you're interested.
Here's more of what reviewers are saying about it:
"[Joëlle Anthony] has created an engaging narrator bound to resonate with readers. Suze is half Anglo, half Japanese, and a Canadian tween through and through. Her missteps, hesitations, and assumptions are universal, and when she faces her toughest challenges, she takes messy but brave leaps that leave her a little more mature than the day before." – Booklist
"Suze Tamaki is a Grade 7 slacker whose wry observations about the world around her make her both loveable and relatable." – Quill & Quire
"A solid story that explores themes of family, abandonment, and belonging." – Kirkus Reviews
Also, my publisher is giving away a copy on Goodreads.
In other news, I'm scheduling school visits in the Victoria, BC area in early March and all points north of here in late May (as far as Fort St. John, BC), if you're interested in having me come to your school, library, or book club, drop me a line through the contact page.
And now, back to writing!