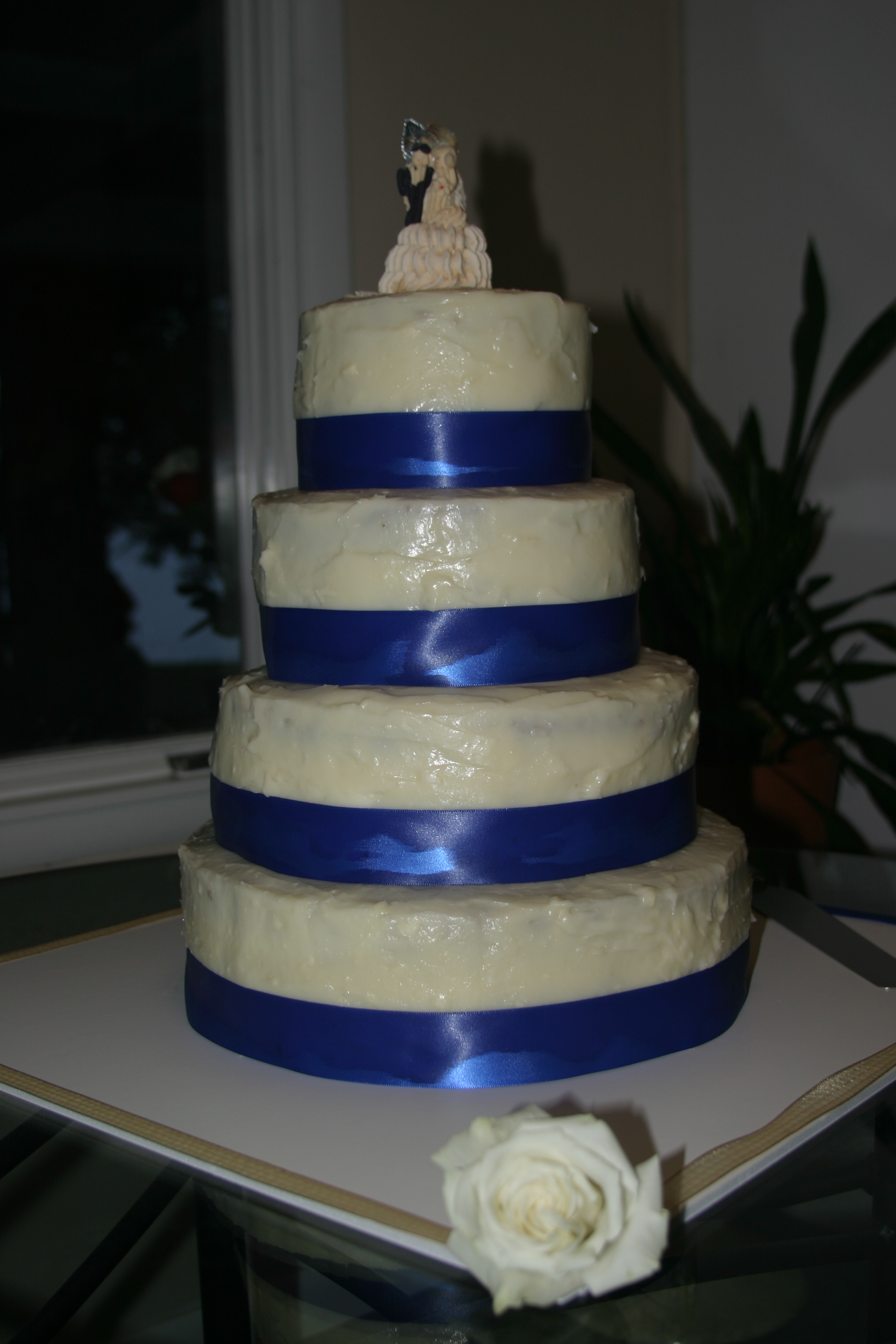 My fiancé stared at me in disbelief and then his face broke into an encouraging smile.
"What? You don't think I can make our wedding cake?" I asked, miffed at his lack of confidence.
Maybe I wasn't a trained chef but it's not like I was self-taught or anything. Jamie Oliver, Emeril Lagasse, and Rachel Ray were some of my closest friends. I'd learned a lot from the Food Network.
For example, did my fiancé know that you don't add the salt to lentils until the very end or they get tough? I was pretty sure I'd had some tough lentils at his house. Not that I was planning to put lentils in my cake, but if I were…well, I'd know how to do it right.
All I wanted was a simple, delicious, towering white-frosted cake. Sheesh, how hard could it be to stack a few layers on top of each other?
"We're going to have a lot of people, I told my fiancé a month later, so I think I better make an eight-layer, four tier cake."
He raised an eyebrow.
"We don't want to run out!" I said.
"Yes, dear."
He was learning fast. I knew I was marrying him for a reason.
One day the official cake pans arrived. I'd won them in a bidding war on eBay and I was not disappointed. Shiny and new, no dents, four sizes. Perfecto! Eat your heart out Martha Stewart.
Actually, it was Martha Stewart who saved the day. My neighbor thought my samples tasted fine, but she too was a worrier and picked me up a book called Martha Stewart Weddings. Normal brides use this enormous coffee table book to get ideas before ordering their cake from a real baker. I took it literally when the book said, "follow these instructions and you can't go wrong". After all, would Martha lie?
I'd decided on my friend Ed's famous carrot cake recipe (which I later found out he'd stolen from the New York Times Cookbook), but I practiced with ninety-nine cent chocolate cake mixes and canned frosting.
Confidently I whipped up the batter, filled the pans and popped them in the oven. When they came out, they looked like any cake I'd ever made. Uneven and dome shaped on top. Hmmmm…
"If the layer is uneven, trim it with a bread knife," suggested Martha.
If you've ever cut your own bangs because it seems easier than going downtown, trying to park, and paying a hairdresser full price for a few snips, you'll know what happened to my cake layers.
If you've ever put on a third coat of nail polish before the other two are completely dry, you'll know what happened when I tried to frost the layers that weren't quite cool yet.
And if you've never done either of those things, well, you must've seen that rerun of The Brady Bunch where they build a volcano, right? Imagine a mound of mismatched, misshapen, layers of chocolate goo held together by straws (another MS tip to keep the layers from sliding).
The only place for this embarrassing mass was the garbage. But nooooo….my fiancé wouldn't hear of that sort of waste. He ate the top layer himself. The rest he insisted on taking to the theater where he worked.
"They're actors. They'll be glad to have it," he said.
"Well, can't you tell them that you dropped it or something?" I asked. "None of them are going to want to come to the wedding if they see this."
"They're coming to the wedding for the beer," he said. "And I'm not really a very good liar."
"You're an ACTOR!"
"But not a liar. You wouldn't want to marry a liar, would you?"
"Yes! Yes, I would."
"Sorry."
I hauled the lump out to the car and placed it on the passenger seat.
"They'll love it," he said, kissing me and climbing in, tossing his shoulder bag directly on top of the cake."
"YES!" I shouted.
The cake probably didn't look any different but at least he wouldn't have to lie. As it turned out, the actors' only comments were, "Cool. We're gonna have to stop for milk instead of beer on the way home."
Oh, and for the record, I learned exactly what not to do from that practice cake and my four-layer, eight tier wedding cake turned out beautifully and tasted delicious. The ribbons around the base of each layer were there for decoration. If they just so happened to hide the gaps and the straws, well, I'm sure even Martha fudges on occasion.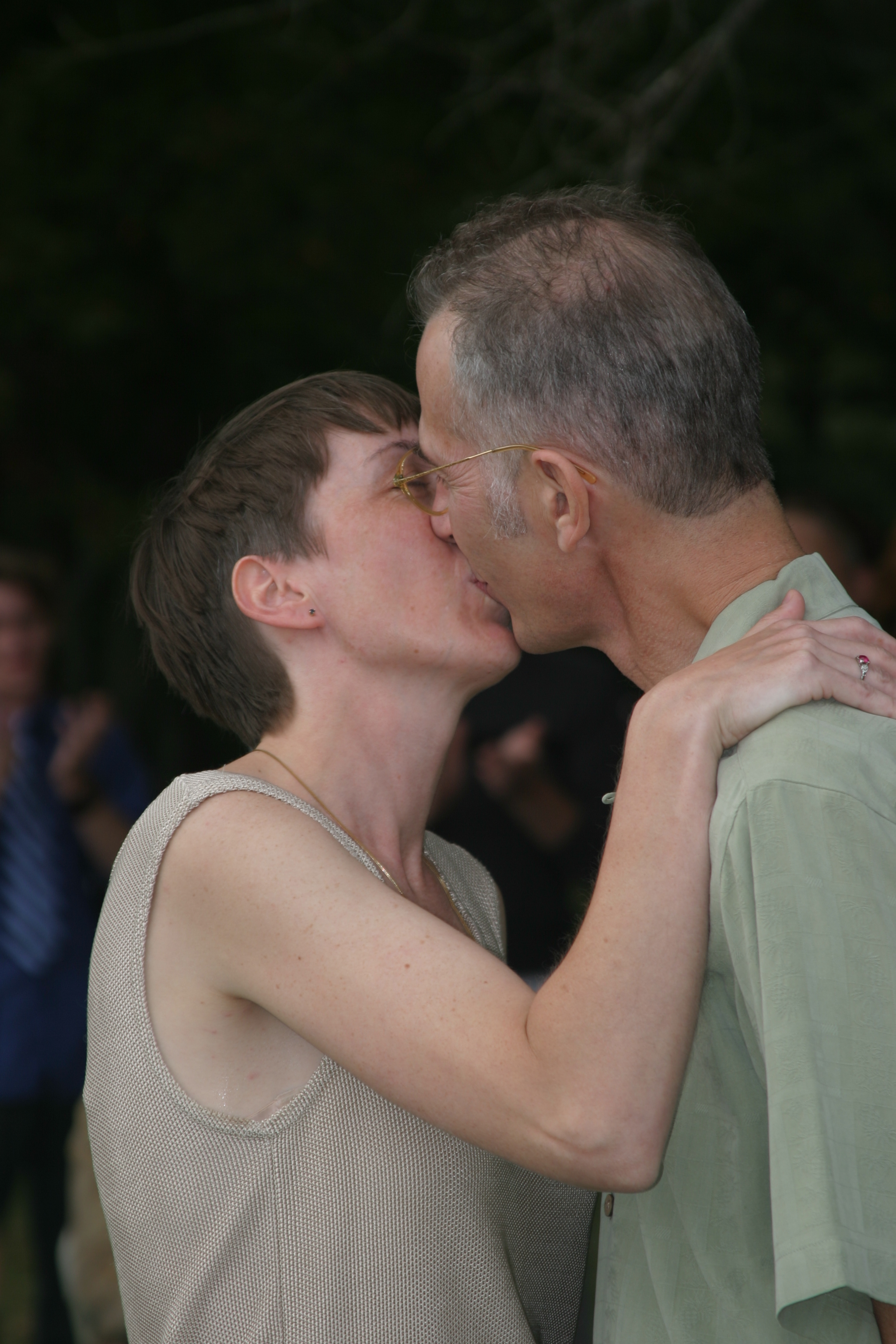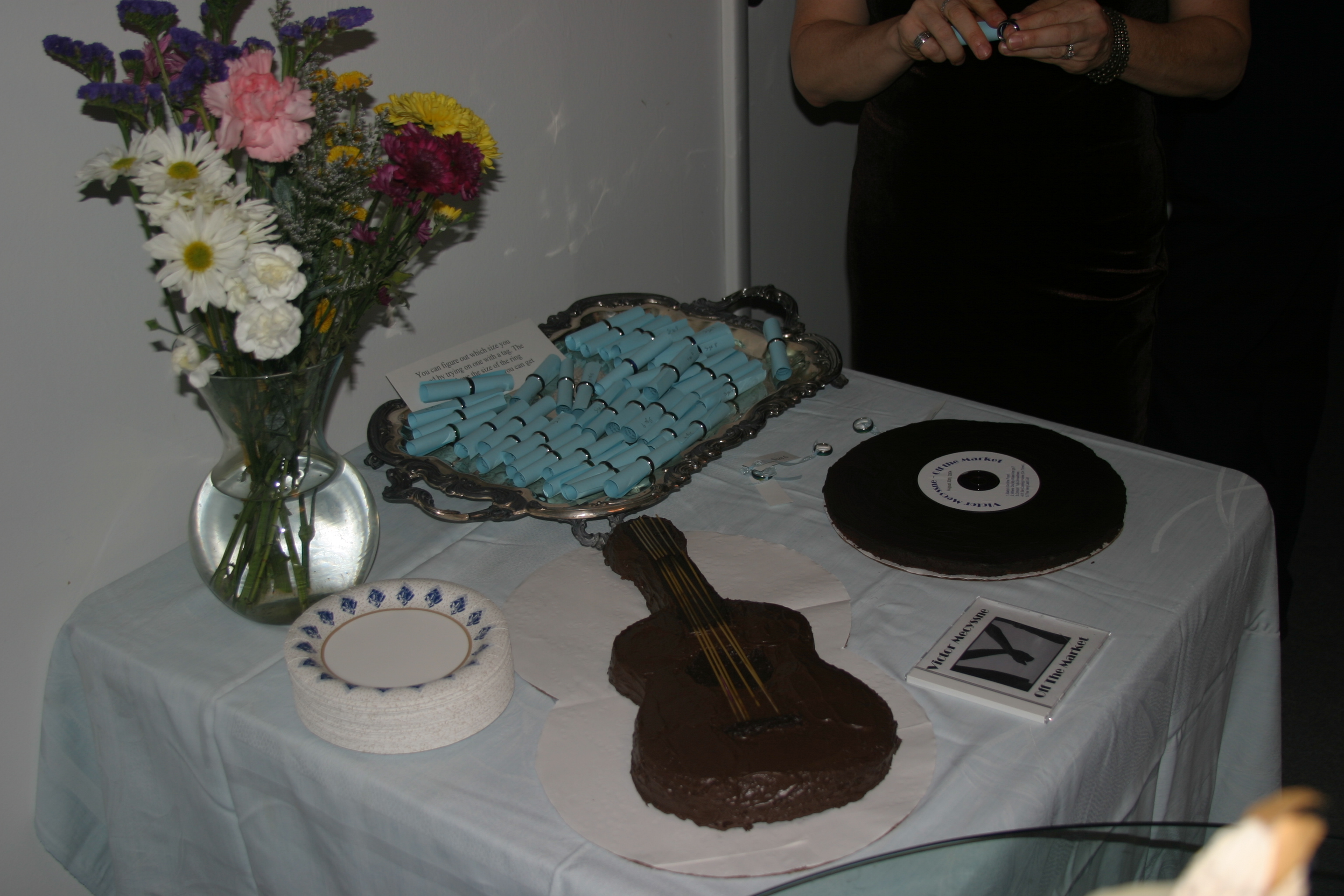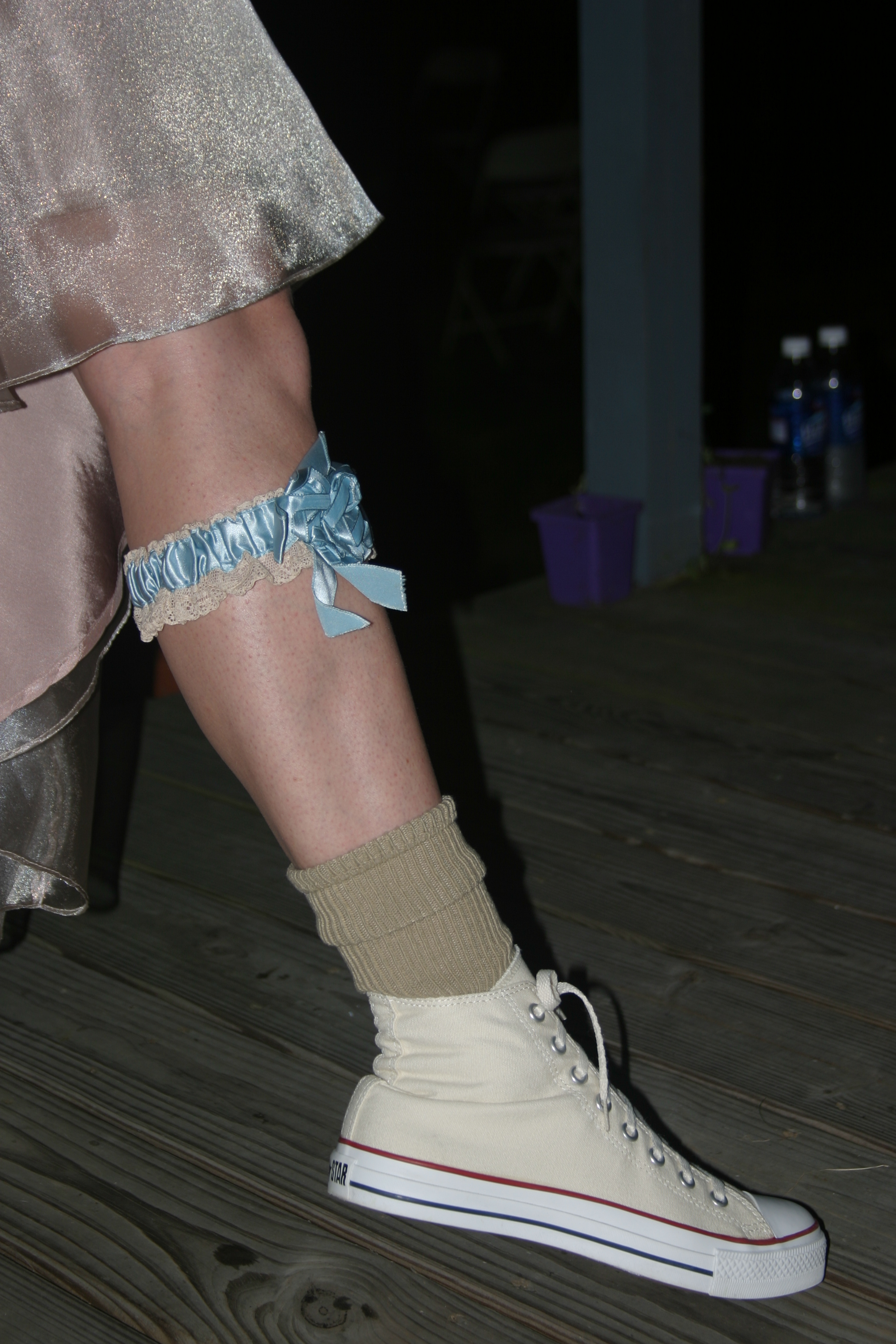 The groom has requested that I remove the earlier picture of him eating his words, I mean the cake, and replace it with this romantic picture of "the official kiss". The other pictures are the groom's cakes (which I also made, in secret!), and something old, something new, something borrowed, something blue. The garter fulfills the first three as it was my mother-in-law's garter, and the shoes are new, matching my husband's choice of footwear for the wedding (also a surprise for him!).
Posted by: Joelle
Categories: