One of my favourite people is Nova Ren Suma and she very kindly answered five quick questions for me for the Friday Five post. If you're not familiar with her, get familiar!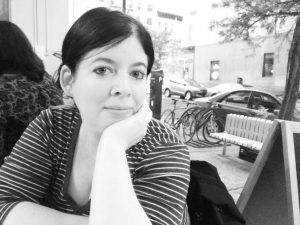 Nova Ren Suma is the author of four novels, including the #1 New York Times Best Seller The Walls Around Us, which is an Edgar Award finalist and was named the #1 Kids' Indie Next Pick for Spring 2015 and a Best Book of 2015 by The Boston Globe, NPR, School Library Journal, the Chicago Public Library, The Horn Book, and Book Riot. She has an MFA in fiction from Columbia University and teaches in the MFA program in Writing for Children & Young Adults at Vermont College of Fine Arts. She is from various small towns across the Hudson Valley and now lives in New York City. Visit her online at novaren.com.
What book do you love so much you wish you'd written it? TELL THE WOLVES I'M HOME by Carol Rifka Brunt
Are you more the off-the-grid, stay in a treehouse kind of vacationer, or five star hotel with spa treatments available? I have no idea. I haven't been on vacation in more than 10 years.
Do you have a quotation you love or a motto you live by? What is it? What if?
What's your writing space like (or your dream writing space)? I dream every day of having my own room to write in.
Is your writing fueled by salt or sugar? Sugar.
Thanks for stopping by, Nova! And congratulations on all your past successes and "cheers" to all your future ones!
Posted by: Joelle
Categories: