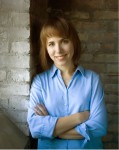 Kristina Riggle is a past Deb over at The Debutante Ball, which is how I first came across her. Lucky me, I won her wonderful book, Real Life & Liars, when it came out! And now you too can win it (not my copy, she inscribed it to me! Your very own copy). All you have to do is leave a comment or send me a message through the contact page saying you wanna win by midnight Tuesday, December 23, and it could be yours. I'll hold a very official drawing (husband pulls name out of hat) next week and announce the winner on December 25th. It will be like a bonus Christmas gift!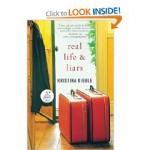 What were your favorite books when you were a teen?
I read almost everything I could find by Madeline L'Engle and S.E. Hinton, and I AM THE CHEESE by Robert Cormier left me stunned. I also read mysteries a lot back then, Agatha Christie's Hercule Poirot books were favorites. I read Christopher Pike's young adult thrillers, Stephen King, and Tom Clancy. I also read my favorite novel ever, CATCH-22, in high school. Eclectic, no?
What are your hobbies that don't have to do with writing?
I am a latecomer to amateur theater. I have been in exactly two shows (I was Miriam in "The Women" by Clare Booth Luce, in which I got to be part of an on-stage catfight and smoke fake cigarettes, and a singing, dancing 1960s secretary in the chorus of "How to Succeed in Business Without Really Trying". I think theater is a natural extension of my love of writing. They're both a form of "Let's Pretend." I really want to be in another show but I need a lot more practice in dancing. Anyone wanna teach me?
What's the riskiest thing you ever did and how did it work out for you?
Quitting my "day job" as a newspaper reporter to stay home with my baby son, freelance for the same paper part-time, and oh yeah, write. That was almost seven years ago and my publisher has just signed me up for the third and fourth books. So far, so good.
Where do you see yourself in ten years?
When I started working as a reporter I never would have dreamed I'd walk away from it seven years later. So, I've learned not to try and imagine that far ahead. It's impossible to know what's coming. I just hope it's good!
Are you a sports fan? Who's your team?
I am! I'm a fan of the Detroit Red Wings and Michigan State University football. I love hockey and I've been a Spartan football fan since I was walking, pretty much. My mother-in-law is also educating me about baseball, so I follow the Tigers, too. I love the vicarious thrill of cheering on a team, plus it's one area of my life where I'm utterly unreasonable and unabashedly biased. It's a relief to be so simplistic about something while the rest of life is so complicated.
Do you speak any foreign languages?
I speak a little Italian! In college I flunked the Spanish placement test despite having aced two years of high school Spanish, so rather than start over I signed up for Italian, which is such a pretty language. I think I was the only one in the class without Italian ancestry (that I know of.) I had a chance to study abroad in Italy and stupidly passed it up. But my husband and I went for our anniversary in 2000, which was an amazing trip, so it all worked out. All because I flunked Spanish placement!
What's the coolest writing-thing that's happened to you since you sold your first book?
My main character has breast cancer, and confesses to her best friend that she's been blowing off her mammograms. I had a woman at my book launch tell me that she read that scene and immediately scheduled her own long-neglected mammogram. I was stunned and so gratified that my book moved someone in that way.
Thanks Kristina! It's great to have you here. And I can hardly wait for the next books, even if I'm not supposed to think ahead. Oh, and just for the record, after reading Kristina's first book, I was so moved by it that I generously offered to plot out the sequel for her because it left me with such strong feelings that I just knew what was coming. For some reason, authors never take me up on those kinds of offers (I have a great idea for J.K. Rowling too, but she doesn't return my phone calls). Anyway, Kristina politely answered the other questions I'd asked in my emails to her, and wisely totally ignored my offer of an outline. Haha! Still…I know what happens after Real Life & Liars, if you want to know. Just kidding!
Posted by: Joelle
Categories: