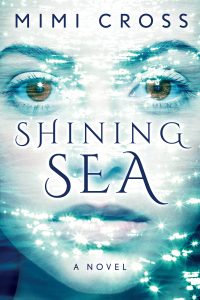 Today for the Friday Five, we have the lovely Mimi Cross!
Is there an author or book you'd think everyone should read (besides yours, of course)?
The Scorpio Races, by Maggie Stiefvater. 
To me, this is a perfect book. There's not a wasted word, not one word out of place. 
I love the setting, and the characters. It's a timeless love story, full of subtleties, that anyone but the youngest of readers can enjoy.
2. Do you think you'll ever retire, or will you write until your dying day?
'Til my dying day, baby. 
3. Do you crave anything when you're writing?
Chocolate, sometimes. Company, once in a while. Writing is so solitary.
4. Have you ever done any running when no one's chasing you?
Ha! Yes. I ran a 10K. I trained for a month first. The inspiration came from a boyfriend who'd taken up running. I was just trying to keep up with him, I think. In the long run, (heh, sorry, couldn't resist) it didn't work out. I'll always think of him as the one who got away… Maybe if I'd been faster…
5. Do you dream in colour or black and white?
Color. Definitely.
Thanks Mimi! It's always a joy to talk with you.
Mimi Cross is an author, singer, and songwriter. Grammy award–winning artist Rosanne Cash has described Cross's writing and singing as "Fusing delicacy and power, heart and gut. Inspiring, evocative, and refreshing." Cross received a bachelor of music from Ithaca College and an MA from New York University and is the creator of Body of Writing, a practice combining yoga and writing that boosts creativity. Her debut novel, Before Goodbye, was published by Skyscape. She resides with her young son in New Jersey.
Visit Mimi online at www.mimicross.com or follow her on Twitter @mimicross.
Thanks Mimi! And thanks for being so patient while I sat on these fantastic answers for so long (Mimi answered these way back before my husband broke his ankle in May and that took over our lives!).