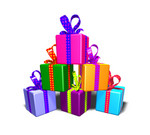 Congrats to Mimi Cross, the winner of the R&R tote bag with surprise goodies! Thanks to all of you for spreading the word about the trailer. I really appreciate it (sadly, the pile of pressies won't be as big as this picture, though)!
On GoodReads, out of 960 entries, the winner is from British Columbia! How amazing is that?
And for your reading pleasure (well, mine, mostly!), here are a few links to some new and excellent reviews!
And an interview over at The Divining Wand
Posted by: Joelle
Categories: