This post was originally on The Debutante Ball last year. Every time someone asks me about the treadmill desk, I have to go search for that post to give them the link. I finally got the bright idea of putting it on my own site. Old, slow Joe….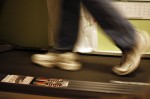 About a 2 years ago, the writer Arthur Slade saw a news program about a company making treadmill desks for big corporations. You can watch that video here. Now, Art is nothing if not cheap ingenious and he knew he could make his own treadmill desk for much less than the $5000 or whatever that company is charging people with more money than sense Corporate America, and he built his own. For a long time, despite the fact my husband thought both Art and I were nuts, I coveted Art's treadmill desk. Last November (a whole year now!), I found a used treadmill for sale just about the same time I came into the exact amount of money they were asking for it. Destiny or insanity? I like to think the former. My friend, Ken, helped me move it home and then he built the fancy desk you see in the picture.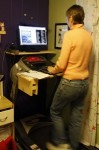 Getting used to writing while walking only took a few minutes, but looking down at my laptop screen made me very dizzy, so I bought the large monitor and Ken added a shelf to his innovative treadmill desk design. The treadmill desk has been wonderful! At the end of the day, I actually have more energy than when I sit all day. Plus, it forces me to take a break because I need water!
Side note: I've noticed whenever I show this to friends, they invariably call their spouse in to see it and say, "Honey, this is exactly what you need." They never seem to want it for themselves!