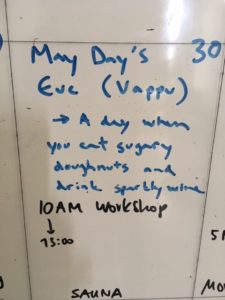 The Finns like their holidays, and they especially like to start them the day before…think Christmas Eve, New Year's Eve, and yes…May Day Eve! So on April 30th, we began the celebrations for May Day. We didn't actually wait until the evening though. We started with lunch! Ida came back from a week away, and brought traditional foods for May Day with her…sugary doughnuts and mead. Sparkling wine is also popular for Vappu, which is the Finnish word for the celebration.
The holiday is to usher in spring, but it also celebrates students and graduates by dunking them in the river (??? I don't understand this either), and it's a day for picnicking and drinking, and also celebrates workers, much like Labour Day in Canada (Labor Day in the US). It seems a bit cold for a picnic, but maybe on 1st May, I'll take my coffee and a sandwich and sit outside, just to get in the spirit of things.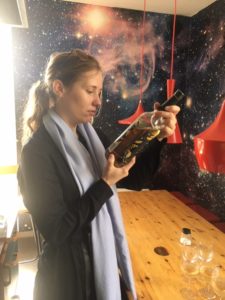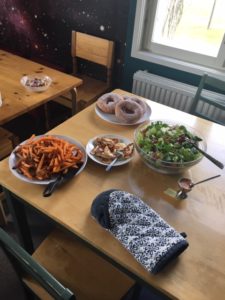 Also, for those of you who knew him, April 30th was Victor's birthday. So why not raise a glass of mead and drink a toast to my lovely husband and your dear friend? And while we all miss him, spring is a time for rebirth, and I think we can all use a bit of that right now, no matter where we are or what's going on for us personally. Love and light to you all.