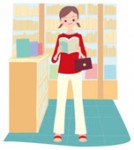 Restoring Harmony has been out for a little over two months now, and while I'm thrilled that many of the chains are stocking it in the brick and mortar stores, and not just online, I really want to thank the indie stores for their fantastic support. I am dubbing this week, July 18-24 Indie Bookstore Week! At least on my site. Each day, I will feature an indie store that I love and want to thank. But to really help spread the indie love, I need your help, so I'm holding a contest. The rules for entry are below, but what you really want to know about are the prizes, right?
First prize is a $20 gift card to the indie bookstore of your choice.
Second prize is a $10 gift card to the indie bookstore of your choice.
Third prize is a little packet of Restoring Harmony swag.
Open to U.S. and Canadian residents only.
To enter:
Comment with your favourite indie bookstore's name, location, and website (if they have one). You may name as many bookstores as you want, and each one gets you an entry.
Get one extra entry for tweeting it or posting about it on FB (just tell me in the comments that you did this…totally on the honour system, here)
Get ten extra entries if you celebrate Indie Bookstore Week by doing a post on your favourite bookstore on your own blog and link back to this post. Include your link in the comments.
That's it! And thanks for joining me in showing them a little of the love we feel for all their support for both writers and readers!

Posted by: Joelle
Categories: