UPDATE: I am sorry, but I'm going to have to end the Grand Prize tonight, Monday 17th May, at midnight. I've realized that there are so many entries it is going to take me forever to get all your names into the drawing and tomorrow I go on my book tour. If you ever hope to get your prize, I'm going to have to end it tonight. Hope you don't mind! And thanks for entering. The Debut Book Giveaway will still go through Tuesday night.
Today I'm over at Reading Rocks for Day 9 of the Spring Fling Blog Tour. I hope you've been having fun skipping around the internet with me each day.
Update! My book has been spotted in a book store! Thanks to Bri Meets Books for the picture!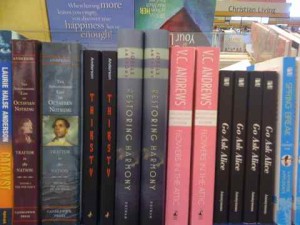 As we're heading into launch week, the posts are going to get more fun here, and the prizes are something you won't want to miss. Speaking of prizes, I've been mentioning that every comment you leave here between May 1-May 18th gives you an entry into the Grand Prize, but I haven't told you what's in the Grand Prize, have I? Today seems as good a day as any to let you in on it!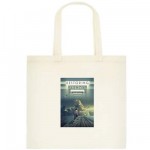 The Grand Prize is going to be a Restoring Harmony tote bag stuffed with all kinds of goodies. Here's what you'll find (and there might even be a few surprises).
A $20 giftcard to Island Books (they have free shipping!)
2 RH magnets (one to keep, one to give away)
RH post-it notes
A CD of the music from Restoring Harmony
3 surprise ARCs from Penguin
Hush Money – a CD of Victor Anthony's music
5 packets of organic vegetable seeds
Local island chocolate
As a special bonus, every comment left on this particular post, earns 5 entries instead of the usual one! Tweet it or post about on Facebook or your blog, and earn 5 more (just let me know in your comment!) for a total of 10 possible points today. This contest is open until May 18th to anyone with a Canadian or U.S. mailing address. Thanks for playing!
Posted by: Joelle
Categories: